Title - Ninja Assassin (2009)
Director - James McTeigue
Country - United States
Trailer done with Legos!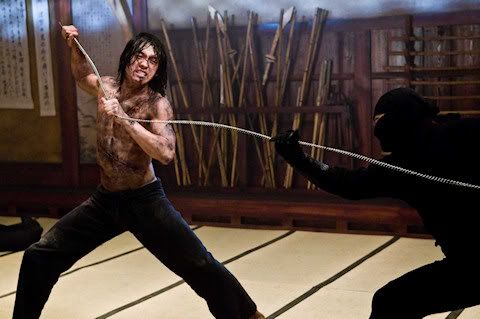 Korean pop star Rain stars as Raizo a top of his class ninja that goes rogue when his psychotically strict master Ozuno (played by the legendary ninja movie star Sho Kosugi) pushes him too far one night after a clumsy but successful assassination. He wants Raizo to kill a female operative that he felt has betrayed the clan but unfortunately the master does not realize that Raizo had to stand by and watch the love of his young life be dispatched in much the same manner just a few months earlier for attempting to escape as she didn't want to live a life of killing. The guilt and pain catches up and quickly he turns on the clan by slashing his master in the face, dispatching a few of the clan and making his escape.
Of course to find out all of this you have need to watch a good portion of the film as it is all revealed in timely flashbacks as our hero makes his way through the world interrupting as many of their assassinations as possible in an attempt to track his old master back so he can destroy him and his evil baby factory of murder. After a quick and INCREDIBLY VIOLENT AND GORY opening assassination scene the film actually switches to Germany where, from what I can decipher, nobody actually speaks German...ever. A young Interpol researcher Mika Coretti (Naomie Harris) brings to her boss proof of her pet project that there are in fact an old group of assassins taking jobs from major governments and companies all over the world for well over a thousand years.
Her shaky thesis is quickly backed up as word leaks of her discovery and ninjas are quickly dispatched to put an end to the investigation. Raizo shows up to interrupt the assassination and Mika is pulled along with him as he attempts to protect her whilst she attempts to find out more information on the group for both of their sakes.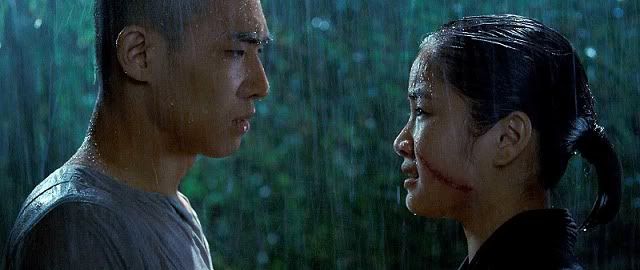 Brought to you by the Wachowski Brothers and the director of "V For Vendetta" their movie Ninja Assassin is a major attempt to create a slickly produced and ultra-modern day ass-kicking movie. Indeed it is a well produced film and it amply demonstrates its 50 million dollar price tag. The fights are great...in places, the effects are amazing...in places, and the acting is...well it's okay and it's definitely considerably better than most of the earlier grind-house era films but then again, that's not really saying a whole lot.
The film is decidedly schizophrenic in its internal logic as the powers of the ninjas seem to drastically change in the second half of the film. The film starts off in strange territory right away as we are witness to a ninja hit on a gang of young stereo-typical clownish yakuza wannabes that would be at home in an old cheaply made production but not in the overall serious tone of this film. They are summarily dispatched in an incredibly horrific manner that's much more suited to a horror movie in tone and execution as an unseen assailant kills everyone. The horror tone was a very good idea and the filmmakers stick to it for most of the first act as potential victims are compelled to "stay in the light" as if the darkness gives the ninja some sort of supernatural powers.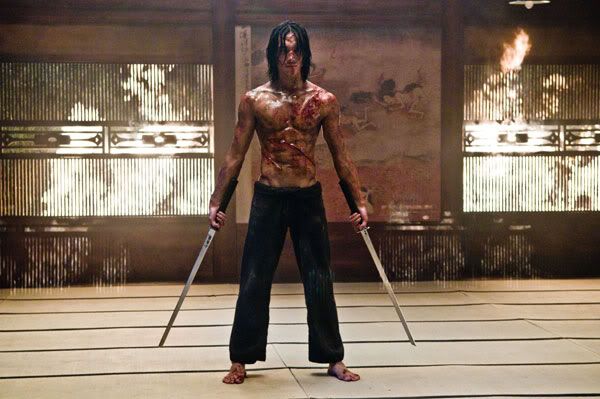 Unfortunately the supernatural tone is dropped far too many times as we are witness to crowds of clumsy ninjas running around out in the open in the middle of traffic or scrambling away from gunfire. Their powers are also unevenly dealt with as one moment we can see them actually moving with flash-like speed (accompanied by a cartoonish black blur of course) and the next they can't seem to avoid simple hits from an opponent or avoid obvious lumbering cars coming their way.
The potential love interest angle is also bungled as Raizo and Mika never really become close enough to make it believable. She seems more like a concerned family member when they are supposed to be developing tender moments. This is very odd as they seem to go to some lengths to equate her to his long lost love and so their pairing is fairly unsatisfactory.
Despite my reservations of entirely too much CG making the fights too goofy overall I think they were very well done. Rain really trained like a demon and gives the viewer a pretty credible fighting machine to watch. Being Rain the directors make sure that he gets plenty of screen time with his incredibly chiseled body devoid of clothing, although honestly he gets ripped up so often that for most of the film he's almost completely covered in blood to the point that I wondered if this was some sort of fetish film. Unfortunately there are some key moments that are shot far too dark and others that are shot to tight and some as a result there is some loss of a dynamic conflict.
It's a fun brainless well made ninja film, it's just a little too uneven for me to recommend.