Title - Point Blank (1967)
Director - John Boorman
Country - United States
A brilliant neo-noir film from the late sixties that effortlessly combines a old school noir plot and main character and filters them through the then current new wave sensibilities. A deconstruction of a sort of the noir ideal of a single man out for revenge with a single-minded goal of getting the one thing he wants the most from those have wronged him -- he wants his $93,000 that was stolen from him.
But the problem is that this is the late sixties and the traditional mob hierarchy no longer exists. As Marvin's character Walker violently pushes his way up the chain of command, he finds that it's a tangled web of people who seem to be nothing more than business men and city officials from all walks of life. There isn't really a clear chain of command and worse yet for Walker, they don't really deal in large piles of cash. This is the modern era and everything is just credit flowing to and from various banks and businesses.
Walker is like a man out of time as he wanders from one person to the next. No matter how forcefully he attempts to get closer to attaining his goal, things just seem to flow farther away from his grasp. John Boorman's directing is perfect and he uses the generously wide Panavision to create an almost constant sense of isolation and confusion. Through occasional and sudden use of shadows and flashbacks quick edits he visual demonstrates a great amount of the mental confusion the character is constantly at odds with.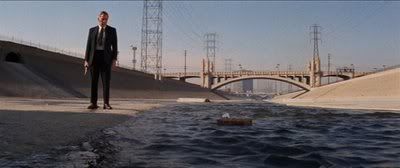 The surreal almost metaphysical elements of the film would seem to be decidedly at odds with a traditional yarn involving gangsters and murder, but here it is all handled very well and it all meshes together perfectly. The farther one gets into the picture the more you begin to question exactly how much is real. One of the oddest elements is the fact that Walker never actually kills anybody. Somehow, through perfectly acceptable circumstances, everybody who has wronged him ends up dead by their own hands or somebody else's. This makes Walker almost an Angel of Death by proxy as his very presence brings doom even if it doesn't appear it's what he desires. He's almost a dream-like innocent stumbling through a world of deceitful and unclear evil.
I would get a lot heavier into all the odd elements and actions that go on especially involving the ending but I don't want to ruin it for anybody who wants to check it out as it's truly an interesting ride.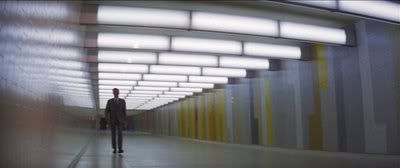 Really thought-provoking and aesthetically interesting and I highly recommend this picture. Back in the 80s Boorman was just as interesting to me as Ridley Scott and it was a real pleasure to find a movie that really measures up to my old ideal of his level of skill.