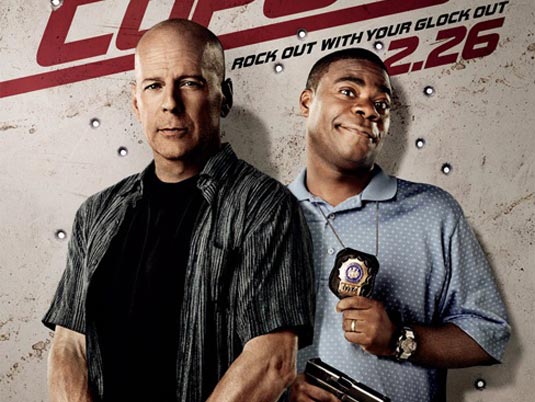 (These were initially gonna be reviews, but they're blogs for now. Cause of complications I had posting one review and I wish to keep the number of reviews intact.)
Cop Out commits the cardinal sin of any movie: it's boring. Extremely bad movies, as long as they are fun and engaging (like many B-movies out there), can still be worthwhile and somewhat pleasurable experiences given the right context. And really good movies are obviously a delight unto themselves. So, the movies that are the worst are the ones that are completely sub-standard and unremarkable and not the ones that are purely atrocious. Worse yet is a sub-standard film that can't hold your interest longer than 10 minutes. Defined by those parameters, Cop Out is the worst film I've seen all year, because it isn't an abysmal crime against the movie industry as I've heard many have make it out to be, but for me, it's an absolutely sub-standard movie that is the absolute definition of boring and tedious.
The moment I realized what Cop Out was as a film was in the introductory scene where Tracy Morgan just riffed off a bunch of notable movie lines with a suspect whom he was supposedly trying to interrogate. Normally, movie references within movies can feel a little strange, but here it's done to a strange excess. It's a pastiche of other notable film lines into a scene that doesn't quite work, kind of like Cop Out itself is a pastiche of other notable films that just doesn't quite work and fails to engage at all. Worse yet, there is a reference to Die Hard and a very awkward cut to Bruce Willis saying that he's never heard of the movie.
Both a strength and fault of Cop Out is the amount of exposition, or rather, the lack thereof. Two minutes in, the script writers just take for granted that we care about the characters and then we are off and running. The rest of the movie is like that, boring sequences from a contrived story set up that don't quite go together well and fail to hold the viewer's (at least my) expectations. I'd pause the movie every ten minutes – to check Twitter, to make myself something to eat, to make a call, to play a quick game of Canabalt on my phone.
The movie is mildly pleasant in spots, but is just held down by being so derivative and a failure to make us care for any of the characters. The chuckles are few and far between (though I did genuinely laugh at the way the, ahem, 'villain' was eliminated), and the movie on the whole just feels awkward to watch because of its lack of anything notable, let alone anything done particularly well. It's by no means strangle-the-filmmakers bad, but it's very close and entirely boring to boot. And that's the worse.