For a filmmaking duo that built their career on taking genres and twisting them into new and interesting forms, it's surprising to see the way the Coen Brothers tackled their adaptation of Charles Portis's novel (also made into a 1969 film starring John Wayne) True Grit. This is a straight up western, done in a classic, straightforward Hollywood style perfectly executed by two master filmmakers. And thought they may have abandoned experimentation on this outing, they clearly used that extra energy on the highly entertaining script and a whole posse of absolutely brilliant performances.
The movie tells the story of Mattie Ross, a strong-willed, recourceful young girl who sets out to avenge her father's death at the hands of ruthless killer Tom Cheney (Josh Brolin). To do this, she hires US Marshall Rooster Cogburn (Jeff Bridges), a man known as much for his ruthlessness and lack of fear as he is for his drinking habit. They are joined by Texas Ranger Lebouf (Matt Damon), who is also after Cheney, and the trio set off into Indian Territory to find him and the gang of rouges he has hooked up with.
Stylistically and structurally, this is very traditional, but very effective filmmaking. Roger Deakin's cinematography is beautiful (Newsflash: Roger Deakins is always amazing. Always.), Jess Gonchor's production design is appropriately filled with blood, dirt, and grime, and Clint Mansell's piano and strings renditions of old Gospel hymns do exactly what they should and they do it well. And while none of it may break new ground, this is perfect textbook storytelling. It hits all the right comedic and dramatic notes and moves fast enough to keep things interesting. And the Coen's script is bursting with clever dialoge and hilariously colorful Old West language. It all works great, but ultimately it's the actors who make True Grit something special.
The most notable of these is of course this year's Best Actress frontrunner (according to the press), 14 year old Halle Stienfeld, who from the first lines she utters demands respect and admiration. If you were wondering what the title is referring to, it's her. She is by far the toughest character in the movie. How do I know? It's not from anything in the script, not from any action the character takes or any lines she is given. Stienfeld just sells it in her performance, radiating determination and confidence even when she lets us see the little girl that she actually is.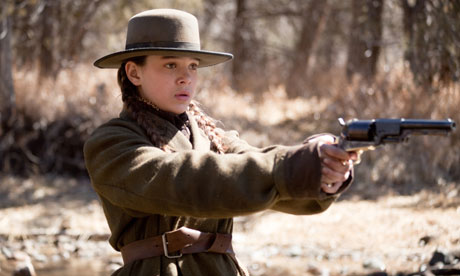 It says something that it's the other actors, including giants like Jeff Bridges, Matt Damon, Josh Brolin, and an utterly unrecognizable Barry Pepper (who absolutely makes the most of his 5 minutes onscreen), who have to hold their own against Stienfeld. But of course they do. All of them are brilliant. None of them is playing a character remotely similar to any I've ever seen them play, and all of them completely disappear into their roles. It's always a problem when actors become really well known, because at a certain point you aren't watching the character, you're just watching the actor. I never saw Jeff Bridges in this movie, I saw Rooster Cogburn, and the same can be said for the rest of them.
And thank god too, because this is a film that lives and dies by the success of its characters. One of the strengths of the script is how well each of them develops over the course of the film. I grew to love them as the film went on, and was genuinely concerned for them when everything finally came to a head. But one of the key signatures of a Coen Bros. is the way they make each and every character unique and memorable. No matter how minor the character is, the Coen's make them distinct. Take for example the Colonel whom Mattie trades with or the strange doctor she and Cogburn meet in the wilderness (one of the best moments in any film this year, full of classic Coen quirk). I suspect that what drew the Coens to this material wasn't so much the story as the opportunity to showcase these characters.
I have a feeling that die hard Coen fans might turn against this one. The Coen's best films have always had very interesting thematic underpinnings, be it the alienation and chaos of the modern world (No Country For Old Men), the oft-overlooked strengths of seemingly simple people (Fargo), or the dangers of our limited perspectives (Blood Simple). Perhaps something will reveal itself on further viewings (I expect there will be many), but for now all I see is a story well told. Nothing wrong with that.